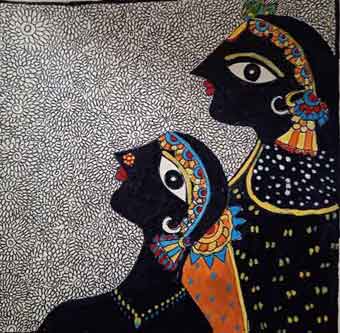 &
Book Class for Painting
Learn Madhubani Painting by Expert
Join online painting class if you are housewife or student.
Madhubani Painting is a India's best and oldest folk art. You can learn online from expert teacher and earn from home.
Also available: Madhubani painting online course for kids
Yes! We run Special Art Class for School student because student need special attention.
We provide best painting classes in Delhi NCR. You can join course online from any location and learn from expert art guru.
Madhubani Painting Online Demo Class is FREE
Benefit of Madhubani painting online course
Learn and earn from home
Build creativity and thinking ability
Engagement in good creative work
Releases their Hidden Expressions
Expands their Emotional Intelligence
Reduce stress level
Madhubani painting syllabus and other details
Lesson 1: Introduction and History of Madhubani Painting
Lesson 2: Learn Different type of Madhubani Painting Borders
Lesson 3: Learn Six types of Flowers in Madhubani Style
Lesson 4: Learn Six types of Fishes in Madhubani Art
Lesson 5: Learn Six types of Birds in Mithila Art
Lesson 6: Learn Six types of Animal in Mithila Art
Lesson 7: Learn Ritual Art in Madhubani Painting
Lesson 8: Learn God and Goddess Making in Madhubani Painting
Lesson 9: Learn Painting on Fabric
Lesson 10: Everything about next level. Guidance for Government Artist Registration. Setup online artist profile for jobs and business.
Class Time and Duration
Duration : Six Months
Time: 1 hrs per class
Class: 3 days a week
Fee details
Admission Fee for Madhubani Painting Course
FREE
Monthly Fee
Rs. 800/- per month
Lump sum Fee

Common Question:
What happened if want to dis-continue for any reason?

Ans: You have paid for complete fee. Still you can leave course for any reason
Option 1: You can continue after few month within this fee
Option 2: You can take refund balance amount
(Will refund after deduction of Previous and Current month Fee)
Rs. 4000/- one time

Discount:
1 Month FREE if pay one time
Certificate Fee
FREE
In covid time, no need to search Madhubani Painting classes near me because you can learn Mithila Painting online from Arewawala® Art expert teacher. Our Art teacher will teach Madhubani Painting for beginners step by step, so you can get Mithila Painting Job and/or start your own Art and Craft business.
Are you Artist?
Join Facebook Indian Art Group https://www.facebook.com/groups/areawalaindianartcraft and post your art.
FAQ of Online Mithila Painting Learning
Why should learn Madhubani (Mithila) Painting if I am not from Bihar?

Answer: Madhubani Painting is India's best and oldest folk art. Mithila Painting had started in the Ramayan period (Wedding of Bhagwan Rama and Sita Maa).
You can prepare almost any painting if you learn madhubani art because its generic and tradition painting. This is very easy Madhubani Art.

What is material requirement for Madhubani Art Classes?

Answer: Madhubani Painting required very basic tool i.e. Paper, Pencil, Eraser, Gel pen, brush and colors. You can get from your nearest stationery or you can buy from Aamzon.

What is online class time and duration for learn painting?

Answer: We take class 3 days a week and you have to learn 6 month for perfect pro artist.

Can I learn learn Madhubani painting online free?

Answer: Yes! You can learn Madhubani painting online free from our Youtube channel video as well as joining from Indian Artist Group. You can ask from comments section in video and take free mentorship on Areawala Artist group.
But you should join proper class and learn in systemic way. Fee is very affordable and you will not only learn but prepare as professional, so you can earn quickly.